Package #1 -
The Deal-Starter:
---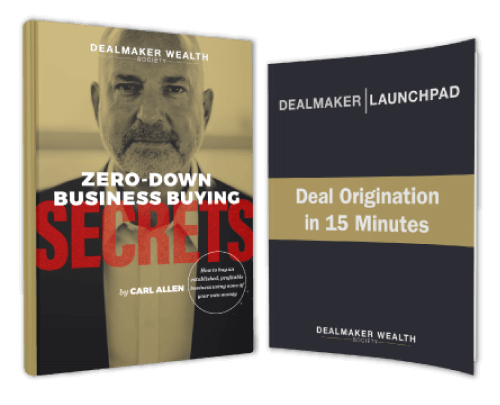 This option is for those that just want to dive in headfirst and figure things out as they go. You are willing to take risks and favor taking speedy action over meticulous planning.
If this sounds like you, then when you get this package you will get:
My new book Zero-Down Business-Buying Secrets: How To Buy an Established, Profitable Business Using None of Your Own Money.
In this book, I share my hard-won, zero-down business-buying secrets with every aspiring business owner I can find — including YOU…
Plus, I'll even throw in my 15 Minutes to Your First Seller Leads PDF —
This document walks you through the process of originating your very first deals with as little
as 15 minutes of "work."
You can grab all this for just a one-time payment of $47.
Or you can check out this next option below.
Package #2 -
The Deal-Maker:
---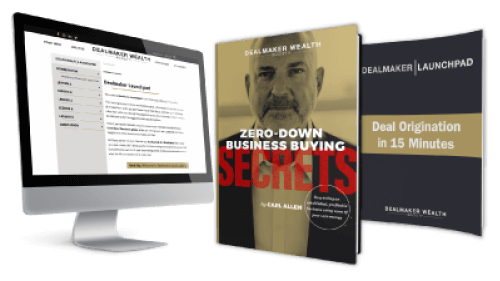 This is for those that are ready to take action but want to make sure the proper foundation is laid before jumping in the deep end.
Those that get this package will get everything in The Deal-Starter package plus my Flagship Program LaunchPad.
Think of this as the "introduction" to all the high-powered deal-making strategies inside of my more expensive program.
It will help you lay the proper foundation for running a successful
deal-making business. Without this crucial foundation, you will most likely fail to achieve any meaningful results.
It includes my very best deal-making strategies, valued at $1,385…
And normally sells for $497. But Right now you can grab this for - ONLY: $97!
Or you can check out the final All-Inclusive Package below.
Package #3 -
The Dream-Maker:
---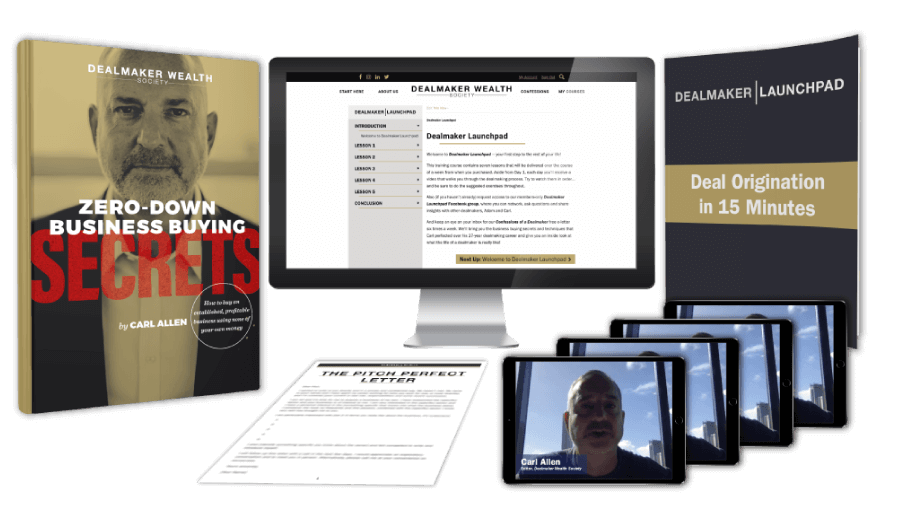 This is for the person that is 100% committed to realizing their dream life and will NOT let anything stand in their way.
When you get this package you will get everything in The Deal-Maker Package plus access to my Deal Origination Training series and my Perfect Pitch Letter PDF.
This option will give you access to everything you need to start making deals in record time.
I could sell the Deal Origination Training series for $497 by itself. But it's yours FREE when you buy The Dream-Maker Package.
In this special training series, I'll show you how to start generating qualified seller leads…
Even if you have no experience, no existing network, and no social media presence.
Plus, I'll show you how to generate leads without tipping off your boss or coworkers about your plans to buy a business.
Pair all this with my Perfect Pitch Letter which is my 20 year proven template to help you reach out to current business owners. This will help you make and you will have business owners practically begging for you to buy their business.
With everything that is included in this package, it is easy to see why this is the MOST POPULAR option.